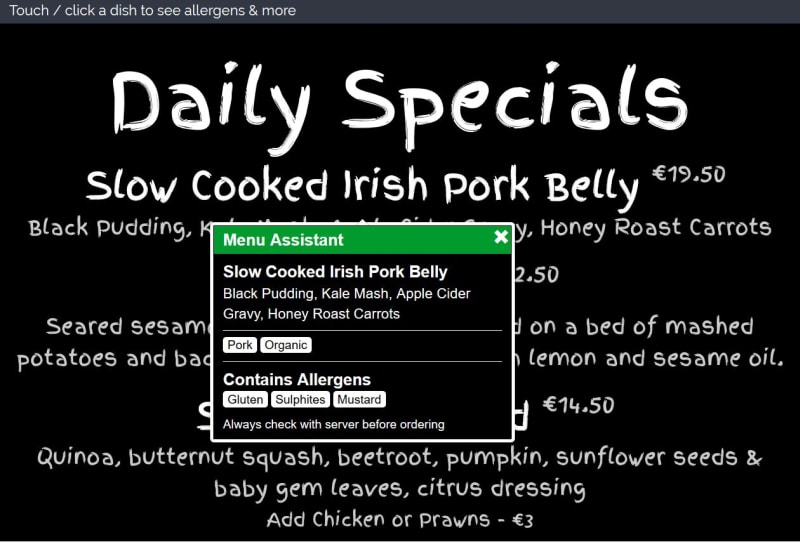 14 Allergens - Great Reasons for Restaurants & Bars to Publish Menus on KooZooK
Restaurants and bars using KooZooK can now clearly show allergens on their food and drink menus online
---
On our revolutionary system - KooZooK.com, restaurants and bars can add tags to dishes on their online menus to keep their customers informed of any allergens in each dish. Additional information that a restaurant would like customers to know about a dish such as organic, low salt or ethnic style can also be included for any dish on a menu.
Viewing Allergens on a Menu
As you can see from the image above, this information is available to the customer at a click/touch. In this way, it is clear for the customer to see and read but doesn't take away from the menu presentation.
Showing allergen information has become very important both from a customer service point of view and because of the legislation that now exists. The EU Food Information to Consumer Regulation (FIC) No. 1169/11 requires all food businesses such restaurants, hotels, bars & cafes to provide their customers with written information about 14 allergenic ingredients found in the food they provide or sell. The United States has similar legislation covering 8 of these allergens.
The 14 Allergens are:
Celery, Cereals containing gluten, Crustaceans, Eggs, Fish, Lupin, Milk, Molluscs, Mustard, Nuts, Peanuts, Sesame seeds, Soya & Sulphur dioxide (sometimes known as sulphites).
We have provided a great solution that solves this problem online. It can even be used from your mobile or tablet when on the restaurant/bar premises or when browsing menus from home, your office or on the commute. Did you know that this legislation applies not only to food menus but also to any daily specials and to drinks menus too.
If this is an area of interest to you or anyone you know, we'd really appreciate it if you would share this article or link to KooZooK.com so that we can spread the word to more restaurants, bars, hotels & cafes helping them to improve their service to customers like you, your friends or family.
To see a live demo visit Daily Specials
KooZooK is an easy to use online platform for hospitality businesses allowing them to create website pages for their venue, including an about page - where they can describe their venue and show it on a map. They can update their food & drink menus, events, photos, facilities & contacts at any time and publish this information in minutes and can also share across social media. Read our article 7 Great Reasons to Promote Your Hospitality Business On KooZooK to learn more.
Thanks from all at KooZooK